If you wear glasses chances are very much like me you have a love-hate relationship with your glasses. I find myself buying numerous frames to match whatever outfit or mood I am in. One of the hardest decisions for some women who wear glasses is should they wear their glasses on their wedding day. Questions like "Will I look like a nerd? Will it take away from the beauty of my wedding dress, my eye makeup, or my hair?" The answer, surprisingly, is no. Just consider you glasses as another accessory for your wedding day. Now some of you may say well "I don't like my glasses anyway; I will get contacts for my wedding day." That is a wonderful option, too. Continue reading below for things to consider when deciding on contacts.
Olive Juice Studios via Style Me Pretty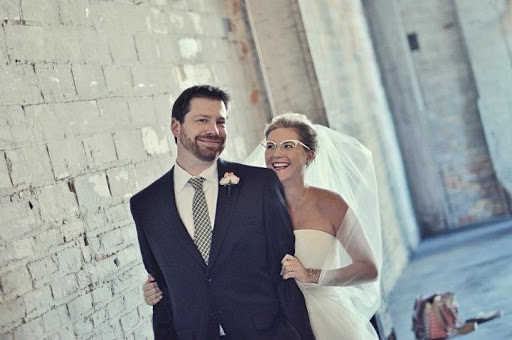 Olive Juice Studios via Style Me Pretty
Myra Fotografie via The Knot
Unknown
If you decide to go with contacts keep these facts in mind; if you've never worn contacts before or haven't since the 90's there a few things you should keep in mind; don't we wait a week or two before your wedding to decide to get contacts. For someone who hasn't worn them in a long time or has never won them it may be difficult for you to get used to them that quickly and depending on your eyesight they may have to be sent to be made. Also, give yourself at least a month or two getting used to putting them in and taking them out. Make sure you are comfortable with wearing them for long periods of time, too.
As with everything there are pros and cons but the most important thing you want to feel after all the love bestowed upon you on your wedding day is comfortable. Comfort is key to having a good time on your wedding day. There are so many beautiful frames out there that you can wear on your wedding day. You can even shop online at places like Warby Parker.  You can choose 5 frames and try them for 5 days for free all in the comfort of your home.
Whether you decide to wear your glasses or contacts on your wedding day you are sure to be the prettiest belle of the ball. Sorry Dorothy Parker, guys do make passes and eventually marry us girls who wear glasses! xo